Eco-friendly Railway toward Eurasia and the World


Under the Company Slogan: "Development of Advanced Technologies, Cultivation of Cooperative Sprits and Perfect
Delivery of Tasks",
Railway Div. provides the premier quality in design and supervision services to the clients by grafting
state-of-the-art rail systems that comply with the megatrend high speed railways, ensuring safety, quality and
sustainability. As we cannot be settled for the present, our missions will continue to cope with ever increasing
urban and inter-city transportation demands, to facilitate agreeable transport amenities, to promote better and
more effective operation and maintenance of it, and to prove ourselves useful in the global markets.
Business Fields
1. Preliminary Feasibility Study and Feasibility Study for railway projects
2. Basic and detailed designs of the high speed railways, light rail transit, national trunk lines, metropolitan railways, and in-city subways.
3. Turnkey design and design alternative for private sector funded railway construction projects
4. Design of roadbeds, tracks and signals, and construction supervision
Major Projects

Basic Design for the Honam High Speed Railway
Construction(Railway Vehicle Depot)








Detailed Design for the Roadbed of Honam High Speed Railway,
Lot No. 5-3 Roadbed(Railway Track)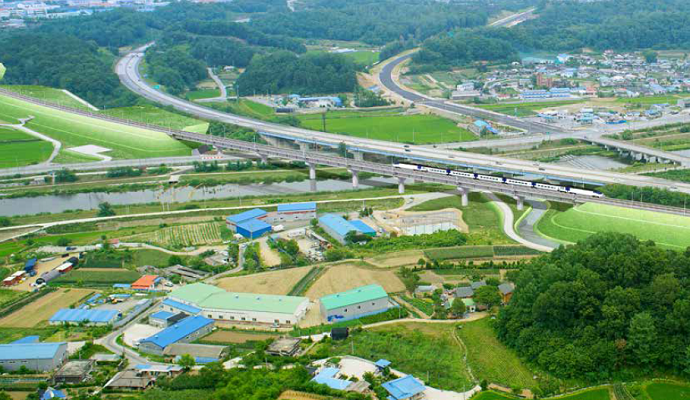 Detailed Design for the Lot No. 2 Roadbed of the Wonju-Gangneung Railway Construction (Wonjucheon Bridge)

Turnkey (Basic Design) for the Byeollae Line, Lot No.6 of Double
Track Subway (Amsa-Byeollae)
Basic Design for the Lot No.2 of the Double Track Subway from
Daegok to Sosa(Siheung City Hall Station)

| | | |
| --- | --- | --- |
| Urban Magley System (Traffic Impact Assessment) | | Uijeongbu Light Rail Transit |
| | | |