1. Daylighting System installation Business(Solar Dream)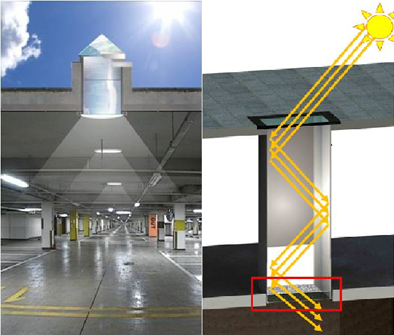 Natual light Reflection system

- Overview
Method which secures a space in the outer wall of a new or existing building in which an optical duct or optical fiber
cable can be installed. Pre- fabricated light collectors and light guide units are assembled in the field, and can be applied
to a wide of structures, from public buildings to factories, schools, underpasses and underground spaces.

- Features
The system ensures the regular and permanent use of photovoltaic power, which is an infinite energy source, and it does
not require maintenance after installation. It also ensures continuous use as it has the same service life as the building
structure.
∙ Reduces electricity usage by 20 to 30 percent compared to other artificial lighting methods.
∙ Lower costs compared to other energy systems.
∙ Easy to install and use.
2. Bikeway Construction Business(BIKEST)
Bikest system

- Overview
Eco-friendly method which inserts PHC piles into the support layer and then mounts factory manufactured precast panels
on the PHC piles inserted in order to prevent the generation of additional embankment when constructing sidewalks
(bike roads) in the river crossing and embankment areas.

- Features
Does not increase construction costs related to land use compensation and civil complaints.
Easy to secure discharge capacity as it does not cause the basin section to be reduced.
Uses factory manufactured precast panels which ensures excellent maintenance.
3. Precast Concrete Pavement Business(SMART Pave)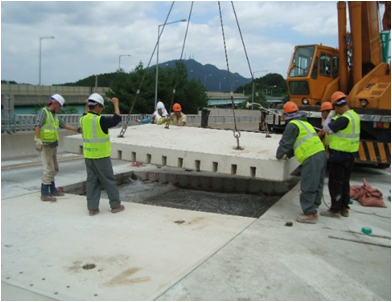 Precast pavement system

- Overview
Method which uses pre-fabricated concrete panels rather than the existing method of depositing concrete the field in
order to ensure fast assembly and installation.

This method can be applied to a wide range of construction sites from airports to the aprons of ports, container yards,
railroad cargo facilities, factories, parking lots, temporary roads, apartments, sidewalks and urban roads.

- Feartures
Rapid installation and maintenance is available thanks to the use of pre-fabricated concrete panels.
The quality of separately fabricated precast panels is easy to control.
High quality concrete panels assure over 20 years of service life.
Able to ensure precise flatness of pavement utilizing patented height control technology.
4. Installation Business of Composite type Steel Temporary Construction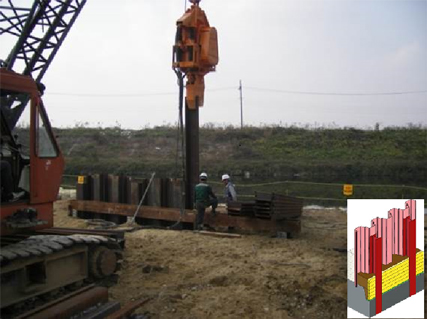 - Overview
An economical method which reduces the cost of drilling holes for sheet piles by inserting sheet piles in the earth and
sand layer and inserting H-piles in the bed lock layer and below.,

- Features
Reduces construction periods by substituting sheet piles used for bed rock support with H-piles.
Reduces construction costs by substituting sheet piles used for bed rock support with H-piles.
Ensures tightness through the installation of sheeting piles in a manner which retains close contact with the ground under
irregular conditions.
5. Installation Business of Prefix Synthetic Arch Cover Structure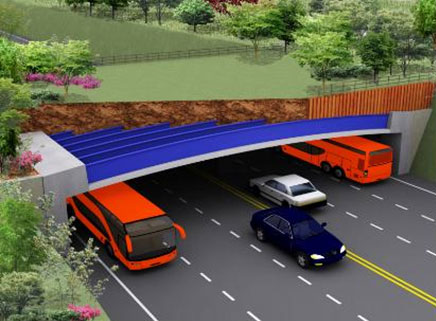 Prefix Synthetic Arch Cover Structure

- Overview
Underground Rahmen bridge model between the span range in order to ensure green network connection and eco-
friendly ecology restoration.

- Features
Easy to secure the space under bridges thanks to the use of underground landfill type girders. Able to extend the span
ranges of arches due to the pre-flex composite Rahmen bridge structure. Does not cause civil complaints as it does not
use middle walls and requires no traffic control.